Ooohweee isn't it nice that summer is upon us?
Now, we know what you're thinking. Here at Miracle Theatre HQ we're thinking the same thing: it's picnic time. There have been many a decadent picnic at our shows over the years and isn't it such a nice way to enjoy Cornish open-air theatre? This year, we want to see YOUR picnic. What are you bringing? A cheese plate? Three course blanket-top meal with wine? Or perhaps a simple, elegant pasty. We often go for a creative sandwich (see archival pic above).
Any which way, we're snackish and curious. Those of you coming—or thinking of coming!—to King Lear this summer, pop a picture of your dinner-and-a-show on insta and tag us with the hashtag #showusyourpicnic. Below are some tried and true picnic recommendations from the Miracle team for a little inspo:
First up, a simple cheese plate of two cheeses and a cracker.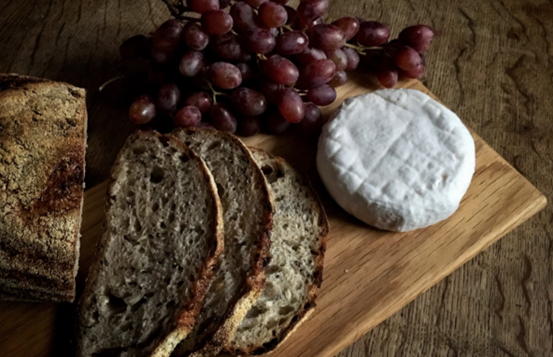 Treveador Farm Dairy Helford Camembert
It's creamy, it's Cornish, it's camembert. Some purists say the cheese can only come from the region, but we say anything made from the sweet milk of Cornish cows defies rules and exists in otherworldly planes of deliciousness.
Something with a bit more heft. A semi-hard to compliment the soft middle of the Helford Cam. This cheese won't mind getting a little sweaty in your bag on the way to the show. It'll only come out better, particularly if sliced thinly and placed atop…
Seaweed. It's trendy, it's healthy, it's also traditional. Luckily, in this form you don't have to wade through rock pools and rip mouthfuls of kelp to get all of the (incredible) nutrients offered by our seaborne plant friends. Tastes really good with cheese, trust us.
And go ooon, use the #showusyourpicnic hashtag at the King Lear performances to show us your scrumptious cheese plate. We love cheese.
But now a little Italian-Cornish fusion.
Cornish Strawberry Cider Vinegar… on strawberries!
Remember balsamic vinegar on strawberries' height of fame in the early 2000s? Well, not sure if you've heard but Y2K is back, baby and this time with a twist. Bring along: a punnet or two of sweet summer strawberries, a bottle of this divine, local, Cornish strawberry cider vinegar and a paper packet or two of white sugar. Combine when you sit down on your camping chairs. Eat as soon as the play starts.
Believe it or not…
Some of us artsy theatre creative types at Miracle Theatre are vegan so here's another idea for #showusyourpicnic
Crudités with Miso Mayo
Before heading to King Lear, pop down to your local shop or market or just check the crisper for a selection of summer vegetables. Some of our favourite options are radishes, runner beans, carrots, lettuce, cucumber and asparagus. YUM. Peel, slice and pack up. Mix 1 cup of (vegan) mayo with 2 tablespoons of miso and you have a delectable, salty dip for those crisp seasonal veg. There's enough space at our picnic-friendly King Lear shows (check the details for your venue on our Tour Dates page) that your crudité crunching won't bother anyone, so just relax and soak up the Shakespearean vibes.
And, of course, we simply had to.
Etherington's Traditional Cornish Pasties
Keep it classic. Keep it simple. The Cornish Pasty™ is a picnic in and of itself. And King Lear has plenty of layers so maybe it's nice to keep the snacks easy. We like Etheringtons for those of you coming to the St Agnes Beacon or Carn Marth shows. Otherwise… you know what you're doing.
Looking forward to seeing your #showusyourpicnic posts and your faces at King Lear soon. Those of you looking to book tickets can do so here!