Everyman & More
We're camped up in the Big Top–yes, red n stripy–showing Everyman for two weeks from 11 to 21 May at the wonderful creative space that is the Porthtowan Eco Park. While we're there, there are some other great events and activities including music, a bar, tasty food and yoga for you to experience!
Selectors Selecting Strictly Vinyl Returns to the Eco Park! Taking you on a musical journey through afro, dub, reggae, soul and beyond… Brand new music, forgotten gems, strictly vinyl sound system providing all the tunes for your Friday night after the play! Delicious vegan food from around the world, bar, live DJ's and cosy fire pit. No bookings – Free Entry – Simply turn up and enjoy!
Wilder Allotment Kitchen is a plant-based café that provides delicious, wholesome food. They often serve Indian thalis, mushroom tofu burgers or laksa if you're lucky. Ingredients come from their own allotment whenever possible and did you know that eating your veg as soon as it comes from the ground means their nutrient count is as high as possible? A delicious gift to your tum! Food will be served from 6-8pm certain nights while we're at the Eco Park, including: 11, 12, 18, 19, 21 May. Remember to message WAK beforehand to book! They can be contacted via Facebook or on 07534621057.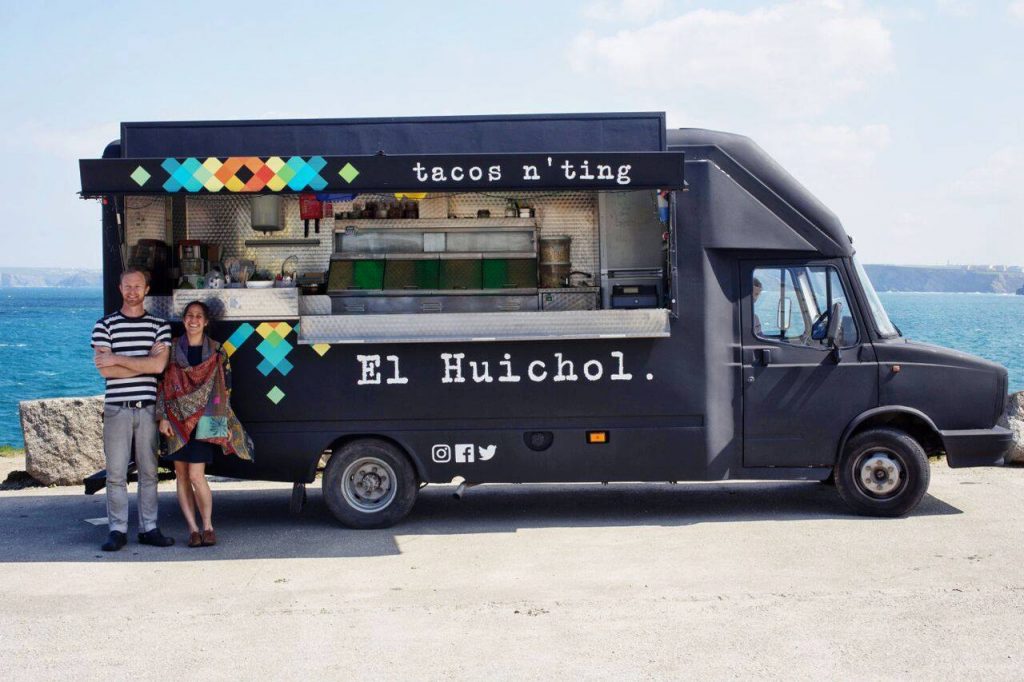 El Huichol serves authentic Mexican tacos on corn tortillas and with their special house-made sauces as well as corn on the cob, quesadillas and tostadas. Did you know that the corn flour, or masa, for tacos has been nixtamalized, which means processed through lime? This makes the corn 10 times more nutritious! Nixtamalization is one of the only English words derived from the Indigenous Mexican language, Náhuatl. El Huichol will be available at the Eco Park for Everyman performances on May 14 & 20.
Join The Wild Fem's cosmic yoga on Wednesdays before Everyman. Classes start at 6 and end at 7:15, so you'll have a sweet 45 minutes to chill out and chat to other playgoers or enjoy something yummy. Yoga takes place in the cosy converted barn for a cosmic flow class, uniting your body and mind with powerful astrology themes that will have you feeling full of magic and melt tension off the muscles and the mind. The flows are slow and strong – led by the stars and moon phases.
Ah, yes. It's us. We're excited to be on home turf, ma boodies! Did you know the Miracle HQ is in Redruth? Just a hop, skip n a jump from the Eco Park. This venue is a great one for us, not only does it have food, music and yoga but is the perfect spot to put up a Big Top, bringing a bit of that boisterous circus energy to our play. Buckle in for an electrifying ride!
And what's Everyman about? Well… Everyman. He's riding high, works hard, and plays harder. He has success, good looks and is living the dream… until Death comes calling. Forced to take a chaotic pilgrimage, Everyman becomes a man on the run, frantically attempting to justify his life choices before his time runs out?